New York, I Love You: Restaurant Edition
by Emily
This April, I was fortunate enough to spend a week in New York with my mom. We went everywhere! I was so exhausted when I returned. I went to a bunch of new and old places considering I hadn't been to New York in years so everything old was new again. I want to share my adventures with you. Maybe when you decide to travel to New York you will try some of my suggestions. I'm going to cover restaurants, shopping, theater and other. Any recommendations are welcome considering I'm already planning my trip back.
Time to begin our journey through New York with restaurants:
Located in Soho, Balthazar is known for having one of the best, if not the best, brunches in New York. I have a love for Eggs Benedict so of course, I had to try theirs as well.
What I Ate:
Main Course
- Eggs Benedict and Crepe du Jour (buckwheat crepe filled with eggs, cheese and sausage)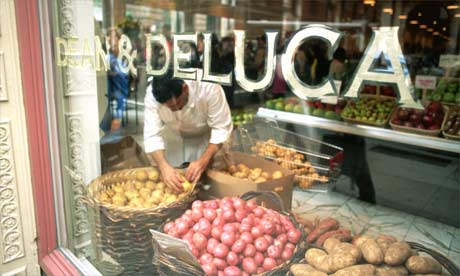 Dean and Deluca:
Of course I had to go to Dean and Deluca. Where else will I find a gourmet pastry steps from Central Park? Every time I step foot into Dean and Deluca, I wish more and more that there was one in Los Angeles. Oh well, a girl can dream.
Goodman's in Bergdorf Goodman:
This restaurant is a mother-daughter favorite in my family. I've eaten here too many times to count. It's my absolute favorite place for a quick bite to eat when running around the city. It's hidden downstairs in Bergdorf's Cosmetic Department. They have delicious sandwiches (the tea sandwiches are my favorite!) and great gourmet salads!
Main Course
- Tea Sandwiches and the Gotham Salad
Grimaldi's in Brooklyn:
Yes, I ventured over the bridge to Brooklyn and it may have been one of my favorite New York days ever. Grimaldi's is for sure a "tourist trap" but it was hands down the best pizza I have ever had. To top it off, it's family owned and run so it's an authentic experience. The pizza had just the right amount of cheese and the crust was perfect.
Main Course - basic small pizza with mushrooms
Katz's Delicatessen:
Being the lover of all Jewish food that I am, I had to hit up a deli while in New York. It happened to be the day I was supposed to see my Jewish aunt so it worked out perfectly. I chose Katz's because I had heard of it before. Little did I know that it was the scene of "When Harry Met Sally". The restaurant was packed and covered wall to wall in photos of celebrities who had eaten there. Reminds me of a few deli's from home....
Drink
- Dr. Brown's Vanilla Soda
Food
- Roast Beef Sandwich with Cole Slaw and Thousand Island (typical.)
Angelo's of Little Italy:
It may be considered a "tourist trap" but it was absolutely one of the best Italian meals I have ever had. I go out for Italian quite often and find myself always ordering the same things but they really got it right.
Beware: even with a reservation, there is a wait.
Appetizer
- Mozzarella di Bufala Affumicata alIa Griglia (which in English is: Grilled Smoked Buffalo Mozzarella with Sun-dried Tomatoes and Wild Mushrooms)
Main Course
- Vitello Piccata (Veal with Artichokes, Capers and Lemon Sauce)
Side Dish -
Fried Zucchini (one of my many obsessions)
The Four Seasons Restaurant:
This has always been my pre-theater restaurant for as long as I can remember. Sitting in the pool room makes the meal lovely. The food and service is perfect and the Cherry Blossom's are a great addition to the room. Also, if you're celebrating a birthday or anniversary, let them know. A giant plate of cotton candy will be brought to your table.
The Burger Joint in Le Parker Meridian:
Best. Burger. Ever. Well maybe not as good as Apple Pan but this is a close second. It is literally a hole in the wall behind the front desk of the hotel. The glowing burger is the sign outside the room. Line up. Order. Grab your food. Grab a table. Or not.... Some people rudely snatched tables from others. Instead of waiting around, we took our burgers to bed and later ordered room service for dessert. A perfect low-key night in the crazy city. Don't let the long line scare you. It's well worth the wait.
What I Ate:
Drink
- Vanilla Milkshake
Main Course
- Burger and Fries (with "the works")
Pastis
Located in the uber-trendy Meatpacking District, Pastis is a delicious French bistro. It's owned by the same owners as Balthazar so they had a similar flair. After a long day shopping in the Village and Soho, the trip over to the Meatpacking District was well worth it. This meal was divine! The menu's being paper place mats were a nice touch.
Appetizer
- Mixed Green Salad
Main Course
- Steak Frites with Bernaise
Dessert
Shake Shack
Even though it is known for its burgers, Shake Shack makes for a great after dinner stop. They have frozen custard which happens to be one of my favorite sweet treats.
Great White Way - vanilla custard, marshmallow sauce, crispy crunchies
(part of the proceeds went to Broadway Cares)
Max Brenner
For anyone who dreams of being part of "Charlie and the Chocolate Factory", this is the place for you. From the moment you walk in to the moment you leave, you are surrounded by a strong chocolate scent. I'm not the biggest chocolate fan but this place made me a temporary chocolate lover. Beware: once again, even with a reservation, there is a wait at night.
What I Ate:
Choco Pops - Dark Hot Chocolate with Chocolate Wafer Balls
(the "hug mug" the drinks come in is my new obsession, I might have to order one)
The Spectacular Melting Chocolate S'mores Sundae
Serendipity 3
This has been a long time favorite of mine. Even more so because I adore the film "Serendipity". I come here for full meals but the only part I want to focus on is the dessert. You can order almost anything on the menu and it's AMAZING. And once again, there is a wait. I waited 45 minutes at 10pm for a table for two. It was worth it though. I couldn't imagine skipping Serendipity 3 on a trip to the city.
What I Ate:
(this is what they're famous for but everything else is equally as good)
Other restaurants not mentioned because they were dined at during a different trip:
If you would like to hear about any of them, let me know!
I hope you enjoyed the journey through New York restaurants. Stay tuned for the next part on my New York, I Love You series.
*all images via Google or my Blackberry
Posted by

Emily
at 7:53 PM